Dallas Artificial Pet Turf
Pet-Friendly Artificial Grass Built to Last
Your pets are a part of your family and receive the same care and attention that other family members get. This should extend to your pets' outdoor experience, as well. Having Synthetic GreenScapes install pet turf in your yard in Dallas will not only please your pets but will also eliminate yard work and grooming for you. Installing pet turf can provide a pleasing aesthetic to your yard. Pet turf is resilient and durable and is easy for our professional turf installation team to install. It is also an optimal choice for kennels, boarders, dog parks, and pet resorts. In addition to pet turf, we also can install putting greens and even playground turf!
Contact one of our turf consultants at Synthetic GreenScapes by calling (972) 947-9612 and requesting a free consultation for installing pet-friendly turf in Dallas.
Benefits of Installing Pet Turf:
Artificial Grass For Dogs Looks Good All Year -
Weeds can ruin your lawn as well as possibly poison your dog. Weeds such as daffodils or pokeweed can cause your dog's heartbeat to increase, drooling, and even vomiting if eaten. By installing artificial turf for your dogs, not only does it prevent weeds from growing but it keeps your dog safe.
Environmentally friendly -
Say goodbye to harmful chemicals that contain toxic ingredients that can harm, you, your family, or your dog. When your dog rolls around in the grass, these harmful chemicals can stick to your dog's coat and get into their nasal passages. With artificial turf, you keep your household pets and family healthy as well as the environment.
No more digging means no more dirty paws and mud -
Having artificial turf, not only deters your dog from digging up the yard, but it also allows your dog to play outside after it rains and your dog won't muddy!
No More Lawn Pests -
Ticks, fleas, and ants all love the grass. With artificial turf, you can virtually eliminate all of these pests from infesting your living space or your dog. You'll have less worry knowing that your artificial grass won't allow those pesky pests to infest your household.
Easy to clean -
Artificial turf makes cleaning up solid waste very easy and anything that is a liquid can be removed by simply using a garden hose and washing it away.
Is Artificial Turf Safe for My Pets?
Pet turf is completely pet-friendly and safe for your pets. Fleas, ticks, and other parasites cannot live long on artificial grass, so pet turf also cuts down on the spread of disease. Because the turf is synthetic, it is stain and odor resistant, making it perfect for pets and making clean-up a breeze. Pet turf drains just like your lawn does, so it does not mold or mildew. Pet turf is also a great option for families with more than one pet. Our knowledgeable turf consultants can design a pet turf area with all the right options that suit your family or business.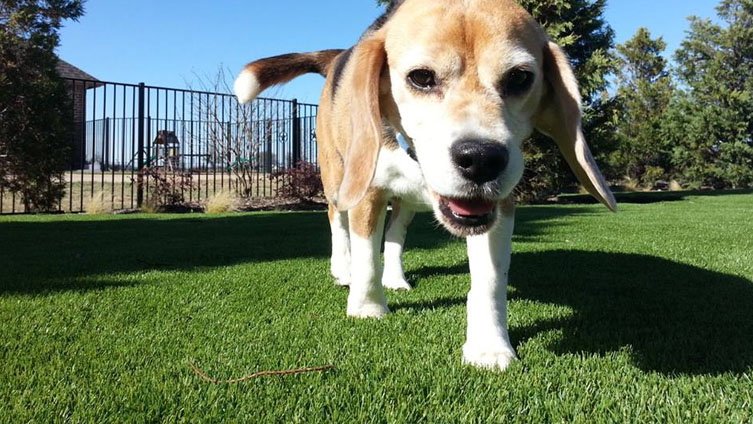 Your Satisfaction Is Our Main Concern
At Synthetic GreenScapes, the 100% satisfaction of our clients and our clients' pets are always our main focus. Our highly skilled Dallas pet turf installation team undergoes rigorous training in all the latest technological advances in artificial grass installation to ensure our installation will give you long-lasting results. We are the premier choice for pet turf installation in Dallas and surrounding areas. In addition to pet turf, we also can provide professional and comprehensive commercial turf for you and your business.
Give Synthetic GreenScapes a call today at (972) 947-9612 or use our online form to see how you can make your pets' day by installing pet turf.