Durable Pet Turf in Dallas
Pet-Friendly Artificial Grass Built to Last
Your pets are a part of your family and receive the same care and attention that other family members get. This should extend to your pets' outdoor experience, as well. Having Synthetic GreenScapes install pet turf in your yard in Dallas will not only please your pets but will also eliminate yard work and grooming for you. Installing pet turf can provide a pleasing aesthetic to your yard. Pet turf is resilient and durable and is easy for our professional turf installation team to install. It is also an optimal choice for kennels, boarders, dog parks, and pet resorts.
Contact one of our turf consultants at Synthetic GreenScapes by calling (972) 947-9612 and requesting a free consultation for installing pet-friendly turf in Dallas.
Benefits of Installing Pet Turf:
Long lasting, long-term solution
Environmentally friendly
Safe for pets
No more digging means no more dirty paws and mud
Very durable
Easy to clean
Economical
Eliminates brown spots in the yard and the need to replace grass
Is Artificial Turf Safe for My Pets?
Pet turf is completely pet-friendly and safe for your pets. Fleas, ticks, and other parasites cannot live long on artificial grass, so pet turf also cuts down on the spread of disease. Because the turf is synthetic, it is stain and odor resistant, making it perfect for pets and making clean-up a breeze. Pet turf drains just like your lawn does, so it does not mold or mildew. Pet turf is also a great option for families with more than one pet. Our knowledgeable turf consultants can design a pet turf area with all the right options that suit your family or business.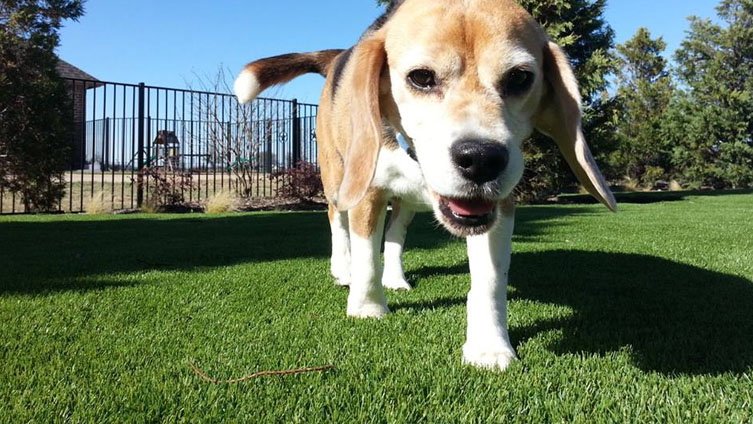 Your Satisfaction Is Our Main Concern
At Synthetic GreenScapes, the 100% satisfaction of our clients and our clients' pets are always our main focus. Our highly skilled Dallas pet turf installation team undergoes rigorous training in all the latest technological advances in artificial grass installation to ensure our installation will give you long-lasting results. We are the premier choice for pet turf installation in Dallas and surrounding areas.
Give Synthetic GreenScapes a call today at (972) 947-9612 to see how you can make your pets' day by installing pet turf.